[HOME]
Michael J. Partington's art is influenced from his childhood memories of: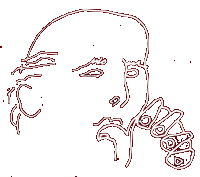 -his mother's artistic talents
-his father's magic as a professional magician
-Rod Serling's "Twilight Zone" on a B/W TV
-growing up in the 60's.
Over the past 30 years he has become an illustrator, kinetic sculptor, wood sculptor, painter, computer artist, teacher, and inventor. Michael gives workshops, teaches, and lectures to other artists, organizations, and schools in the Midwest. He is a published author and has helped develop many Internet, digital art, and computer books for several computer publishing companies. Michael has served on the board of directors for the Graphic Artists Guild in New York City.
He creates Web sites and develops software for the Internet. He believes that electronic communications has changed the way the worldwide arts community views an artist's work. These changes magnify the importance of the copyright laws that protect the intellectual property rights of artist's work.
Partington's passion is creating fine art with the help of his computer. He states, "Creating fine art with the aid of the computer has allowed me to be more open and creative with my ideas and style. I don't necessarily use the computer to complete each work, but when used even partially as a tool, my creativity seems to flow more naturally and easily."
Michael uses various media for his digital works, including the durable Cibatrans transparency films, which are displayed in a back-lighted fashion to replicate the intense color display of a computer monitor. Other media include; Kodak Digital Ektatherm prints, Cibachrome prints, dye-sublimation printing, acrylic, graphite, bronze, concrete and wood.
Even though most his work is hand rendered, its style may be seen as a recipe mixture of 90's high-tech digital art, 50's surrealism along with a pinch of '60s psychedelic art.