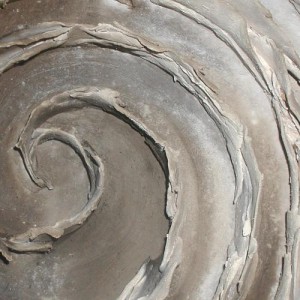 "Neoplastic Landscapes"
Friday, July 2, 2010 from 6:00pm – 9:30pm through July 31st.
The Carreno Studio and Gallery
901 N. Senate Avenue – Indianapolis, IN
Located 1 block South of the Stutz building, in the Sutton Garten Welding Co. with the entrance is in the rear.
Look for the bright green door.
Free parking in the Sutton Garten Parking Lot.
Neoplastic Landscapes is a series of smoke fired ceramic wall reliefs – a collaborative experimental effort by Soyong and Michael Partington in building ultra-thin modern clay structures and then firing them within the extreme heating conditions of the ancient pit firing process.
Pit (or smoke) fired sculpture is created using natural materials such as leaves, twigs, and wood shavings, that are set on fire in a closed container and allowed to smolder for up to 48 hours. The smoke creates variations of organic shapes and colors on the surface.
---
ARTSPARKLE: Mardi gras – Saturday, August 22, 2009
Please celebrate the Art Center's 75th Anniversary this summer at ARTSPARKLE: Mardi Gras on August 22. Now in its fifth year, Artsparkle has become the party of the late summer in Indianapolis. Over 500 guests will enjoy an evening under the stars in ARTSPARK including scrumptuous food prepared by Indianapolis restaurants such as Ruth's Chris, The Oceannaire and Daddy Jack's along with complimentary drinks from Absolut Vodka and National Wine and Spirits, dancing and fabulous live entertainment by Buckwheat Zydeco all night long. Get a taste of the music! Check out Buckwheat Zydeco's Throw Me Something, Mister (MP3 format).
Traditional Mardi Gras décor and flavor will set the scene and infuse the gala with a celebratory spirit. After savoring the delicious dinner items, guests can kick up their heels to a one-of-a-kind concert by Buckwheat Zydeco on the Seybert Terrace. We've got a lot planned, check it out:
6:30-7:30 p.m. Pre-party (available with purchase of a patron ticket, $25 extra)
7:30 p.m. until food runs out
9-10:30 p.m. concert by Buckwheat Zydeco
10:30 p.m.-1 a.m. afterglow with DJ Paul Bunyon represented by H2H (after-party in the Art Center's library)
---
"Another Perspective"
5 to 9 pm Friday, October 7th, 2005
October's "First Friday Art Tour"

The Madison Studios/Gallery
(Formerly the Bodner Arts Building)
1200 South Madison
Indianapolis, IN 46225 [MAP]
Paintings, fabric, sculpture and pottery from:
Karen Seltzer

Amy Kindred

Carol Myers

D. DelReverda-Jennings
Over 25 other downtown galleries and art venues will participate in Friday evening's festivities during the "First Friday Art Tour" sponsored by IDADA – The Indianapolis Downtown Artists & Dealers Association.
---