Michael J. Partington's art is influenced from his childhood memories of: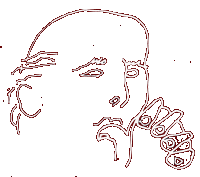 -his mother's artistic talents
-his father's magic as a professional magician
-Rod Serling's "Twilight Zone" on a B/W TV
-growing up in the 60's.
Over the past 30 years he has become an illustrator, kinetic sculptor, wood sculptor, painter, computer artist, teacher, and inventor. Michael gives workshops, teaches, and lectures to other artists, organizations, and schools in the Midwest. He is a published author and has helped develop many Internet, digital art, and computer books for several computer publishing companies. Michael has served on the board of directors for the Graphic Artists Guild in New York City.
Michael Partington also creates Web sites and develops Internet software applications. He believes that electronic communications has changed the way the worldwide arts community views an artist's work. These changes magnify the importance of the copyright laws that protect the intellectual property rights of artist's work.
Partington's passion is creating fine art with the help of his computer. He states, "Creating fine art with the aid of the computer has allowed me to be more open and creative with my ideas and style. I don't necessarily use the computer to complete each work, but when used even partially as a tool, my creativity seems to flow more naturally and easily."
Michael uses various media for his digital works, including the durable Cibatrans transparency films, which are displayed in a back-lighted fashion to replicate the intense color display of a computer monitor. Other media include; Kodak Digital Ektatherm prints, Cibachrome prints, dye-sublimation printing, acrylic, graphite, bronze, concrete and wood.
Even though most his work is hand rendered, its style may be seen as a recipe mixture of 90's high-tech digital art, 50's surrealism along with a pinch of '60s psychedelic art.
Michael Partington's  art awards can be viewed here. He and his family is  from Indianapolis, Indiana. His family's large art blog web site is at www.PartingtonArt.com. They display their artwork in the six Indianapolis Art Districts and along the Indianapolis Cultural Trail.
Michael Partington is also a Web site creative consultant with over 15 years of experience deploying web sites for artists, businesses and non-profit organizations throughout the United States. He's an experienced Coldfusion application developer using MSSQL-Access-MySQL data sources, a creative web site designer/artist and a consultant for web e-commerce development.
Michael's had experience with Internet project management, deployment of content maintenance system solutions (CMS) and extensive consulting /training with end-users to train them on newly developed web applications that included: online email marketing tools, online marketing campaign design, e-commerce deployment and other specialty Internet services.
Michael Partington's professional Internet web site portfolio can be reviewed [HERE].
Michael Partington's clients have included:
Eli Lilly – Drug manufacturing
The Indianapolis Art Center
Sequential Partners, LLC
EPhost – Electronic Processing West Coast
Connect One Communications
The United States Law Firm Group
Citizen's Gas and Coke Utility of Indiana
sisBOOMWeb.com – Live Web Seminars
CoCoTools.com – Email List Management
Indiana Mortgage Network
Ice Miller – Indianapolis Law Firm
EKF Management Corporation
New Millennium Roofing
Caboose Productions, Inc.
Maple Leaf Farms
Allstate Insurance Co.
The Association of Academic Physiatrists
Used Cell Phones, LLC
Alpha Gamma Delta – Sorority
Intecap, LLC – Intellectual Property Consultants
TDRC Consulting, LLC
Thermoset, Lord Chemical Products
Adam's Mark Hotel
NuTec Roofing Company
Permaplate Corporation
Skip back to main navigation